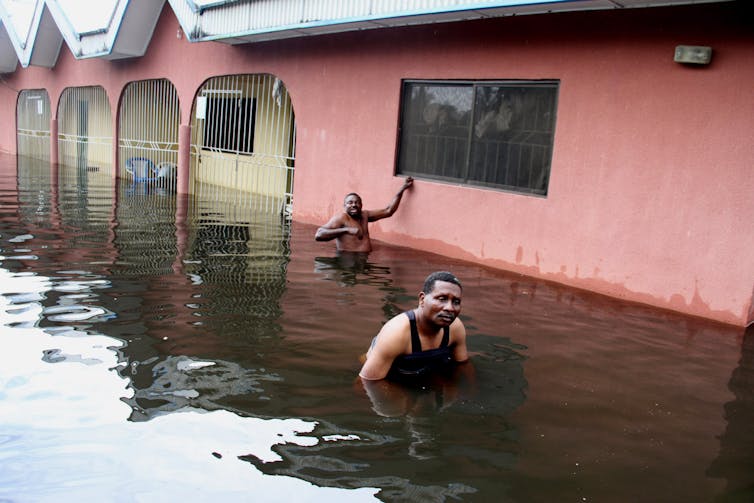 Nelson Odume, Rhodes University
Numerous rivers criss-cross the length and breadth of Nigeria, running both east-west and north-south. The country is also the flood plain of the transboundary Niger and Benue Rivers, which have a number of upstream dams in other countries. The Niger River is by far the most important River in West Africa. It's also the third longest in Africa, with a length of about 4,200 kilometres. Its hydrological basin covers an enormous area.
During the rainy seasons – March to July and mid August to mid October in the South, and July to October in the north – the Benue and the Niger Rivers often burst their banks. That causes flooding in numerous Nigerian states, among them Delta, Kogi, Anambra, Bayelsa, Adamawa, and Niger.
Dams also often burst and fail in upstream countries during the rainy seasons. This aggravates Nigeria's flooding problem.
Most recently, 34 of the country's 36 states have been affected by floods. About 242 people have died as a result of the flooding. More than 600 000 people in more than 400 communities were displaced. Properties and farmlands were destroyed.
Flooding seems to be an inevitable reality for Nigeria. But the risks can be minimised in a variety of ways. The most significant of these is coordinated spatial planning. This involves bringing urban planners and environmental practitioners together to organise the distribution of people and activities in a space. Proper spatial planning would minimise development in flood-prone areas.
Nigeria also needs to deal with its insufficient and poorly constructed drainage systems.
In addition, the country needs to improve its weather prediction and river system monitoring. This will help it to prepare better for flooding.
The planning challenge
Despite its long history of flooding, Nigeria's existing urban and regional spatial plans are not sufficiently sensitive to the country's ecological, social and economic realities. Citizens are not sufficiently involved in the planning process. This leads to disdain and apathy towards formal planning institutions.
The existence of both formal and informal spatial planning systems; the inability of government at all levels to implement and enforce relevant spatial planning regulations; and confusion about overlapping mandates all need urgent attention.
At the moment, residential developments occur on floodplains, river banks and wetlands. These should ordinarily be avoided.
Another challenge relates to implementation and enforcement of environmental laws and regulations. Existing drainage systems are clogged with rubbish. So when it rains, the blocked drainage systems are unable to collect and channel the water away from residential areas.
This situation contributes to flooding when drainage systems can no longer hold the water and aggravates the effects of flooding when rivers burst their banks.
Failure of regional cooperation
There are issues on the governance front, too. Even though the riparian countries of the Niger – those with land next to rivers, inland lakes and ocean shores – have treaties on transboundary governance of the River Niger, institutional capacity to deal with flooding is low.
The Niger Basin Authority, an intergovernmental organisation, urgently needs to strengthen cooperation and flood forecasting systems. The main challenge here relates to aligning member countries' national development agendas with international cooperative imperatives.
Another organisation, the Nigerian Meteorological Agency, is by law responsible for providing weather forecasts and establishing rain gauges to measure the amount of rainfall in an area.
Nigeria currently has 87 existing rain gauges. It needs an additional 970 for proper coverage.
The existing rain gauges are grossly inadequate, which results in inaccurate rainfall data. This affects the accurate prediction of rainfall patterns, intensities and frequencies. Related to this challenge is the fact that Nigerian rivers are poorly gauged and the country's general hydrological infrastructure is poor. This means there is uncertainty about the amount of water flowing through these rivers, their patterns of flow and the accurate timing and prediction of flood peak frequencies.
The Nigerian Hydrological Services Agency was established in 2010 to address some of these challenges. But it needs resources to accelerate the development of appropriate hydrological infrastructure. This includes installing gauging stations, developing suitable models for hydrological predictions, and collecting data that will enable accurate flood forecasting.
Nelson Odume, Researcher, Rhodes University
This article is republished from The Conversation under a Creative Commons license. Read the original article.